Being a single parent isn't easy, so I often help out a single friend who has a great kid. Camille is a fun, intelligent, talented teen who dreams of becoming a prima ballerina in New York, or if that fails, a model. She loves pointe shoes, makeup, hairstyles, and fashion.
To make those elusive celebrity connections, Camille thinks Instagram is the answer. The photography app is her obsession now. The rationale is that all celebrities are on Instagram and it's not as busy as other platforms like Facebook, so she believes she'll be the one fan chosen to connect with stardom.
While it's great to share in a teen's dreams, for true photography professionals, Instagram may not be the way to network for business in the entertainment industry.
Here are some tips for breaking into celebrity photography.
First of all, be sure your online reputation is sterling. If anyone reads complaints that you've stalked any person, celebrity of not, you'll be off limits to the media-shy. Legitimate work is quite different from the paparazzi, and working in this market segment can pay handsomely if you are trusted.
Any other negative comments, no matter how unrelated to photography will also limit the amount of legitimate work you can gain. For example, someone with financial woes will be seen at risk for selling photos to the tabloids.
If you do find you have a negative online reputation, do some homework first to fix it before going on your quest for celebrity clients. There are a number of measures you can take to gain positive reviews, and it's well worth your while to do so first.
Find the Decision-Maker
To work with celebrities, you often have to find the real decision-maker. Usually it's not the person in front of the camera, but rather the entertainment company that is organizing a promotional event. This might be a record label, movie studio, or a specialized firm that takes full responsibility for everything involving promotion.
Established promotion companies often have long-term relationships with photographers. Getting on their list is often the only way to break into the legitimate celebrity photography market.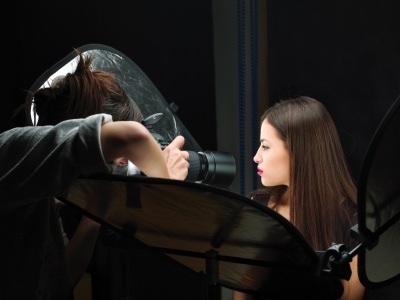 Set yourself apart from the paparazzi!
Volunteer
Celebrities and charities now seem to go hand in hand. To get your work seen, volunteer for a high-visibility charity that is having an event glittering with celebrities. You then won't be one of the paparazzi on the red carpet, but instead inside the event as an "official" part of the festivities. Events like this present lots of opportunities for candid shots no one else will have.
If your work is exceptional, you'll stand out when your photos are used in the social pages both on and off line that tend to cover these events. Of course, the key here is to be utterly professional — no asking for autographs! You'll be noticed not just by celebrities, but also by their managers, agents, and others in the industry who use photographic services on a regular basis.
Should you try the Instagram route to getting celebrity photography work? It's possible some people have had success there. We'd love to hear from any photographers who have first-hand experience using Instagram to get work with celebrities!
Sarah Boisvert is a writer who covers a variety of topics including marketing and sales. She collects black-and-white photography, and her most prized possession is the Arnold Newman "Stravinsky."
Photo Credit: Victor Habbick via FreeDigitalPhotos.net, marin via FreeDigitalPhotos.net
Do you know that you can buy/sell websites or web-based businesses using Worth Of Web?
Thanks for reading!
Share: If you know someone who might find this helpful, please share it.
Related Posts: Check recommended posts from our blog below.